Within this guide, we aim to outline and demonstrate how you can manage your IP addresses in terms of their reverse DNS, DDoS protection mitigation modes and service firewalls.
---
1. You must firstly be logged into your billing account with an active Virtual Servers or Minecraft for Networks service then navigate to 'Service IP Management' by clicking here.
2. You will be displayed with the following page, this will allow you to make changes to your service's IP addresses noting this page currently does not support IPv6: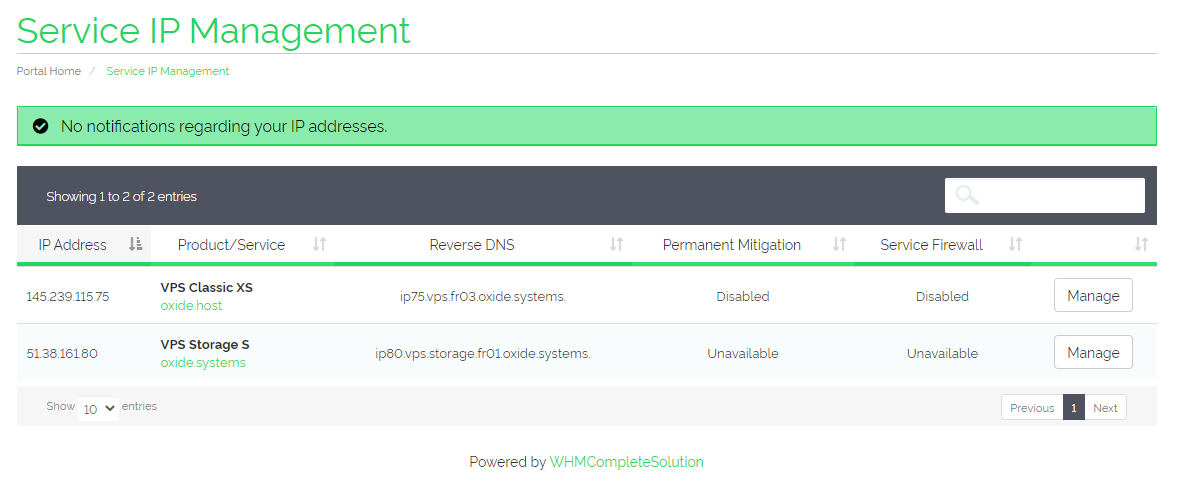 3. You can then use the 'Manage' button next to the respective IP address you wish to manage to enable/disable your service's permanent mitigation mode (always on) DDoS protection/service firewall/service monitoring or modify your service's reverse DNS. Please note that currently our VPS Storage product range does not support Permanent Mitigation or Service Firewall.
4. Please find below a brief explanation of all options displayed on this page and how this impacts your service along with some information to bear in mind in some circumstances:
4.1. Your server's 'Reverse DNS' is used to associate your hostname (domain or sub-domain) with the IP address; this is often used in mail servers for authentication.
4.2. Your server's 'Service Monitoring' is a tool to ensure your service remains online; leaving this enabled means any outages will be reported to our team and dealt with where appropriate.
4.3. Your server's 'Permanent Mitigation' is an always-on DDoS protection mode which removes delays from mitigating DDoS attacks but this can cause issues in some cases by mis-identifying safe traffic.
4.4. Your server's 'Service Firewall' will soon enable you to define a firewall configuration using the 'Manage Service Firewall' option which is coming soon; enabling you to allow/disallow certain traffic.